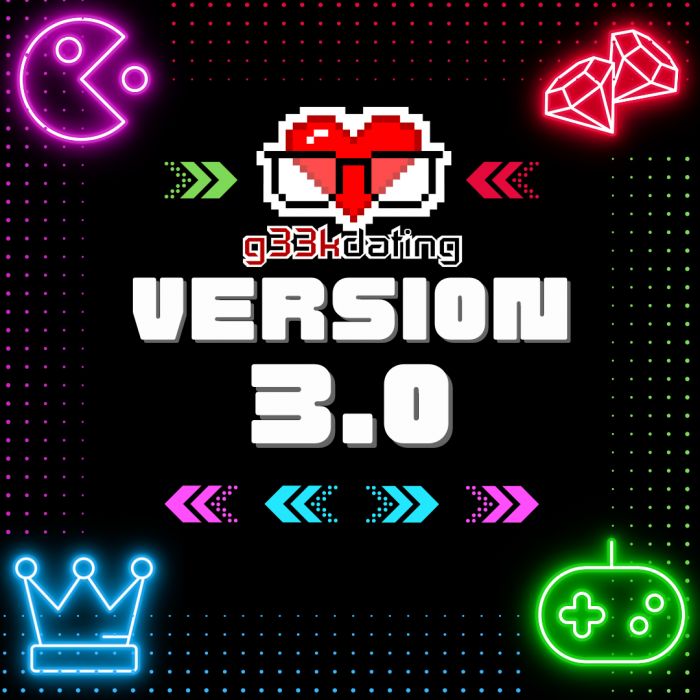 The biggest update in years!
Dear fellow geeks,
we have great news for you:
g33kdating 3.0 is coming!
This is the biggest update in years and it brings you many new and improved features that will take your dating experience to a new level.
Here are some of the
highlights
that you don't want to miss:
Matchmaking Preferences Page for App-Users

You can now specify your preferences for potential partners, such as age, gender, location, interests, etc. This way you get only the best suggestions and more compatibility.
PHP 8 and Android 12 support
Making the necessary steps to improve loading and response times. The app looks more attractive and modern for Android users as it adapts to the latest design guidelines.
Slider Form Element

You can now indicate your answers to certain questions with a slider instead of entering a number or choosing from a list. This makes profile creation and editing easier and more intuitive.
And that's not all! We have also made a ton of bug fixes and improvements, enhancing your overall Web and App experience
We are very proud of this update and we hope you like it. We have worked hard to provide you with the best dating experience for gamers, otakus, geeks and nerds.
Release Planning:
The current plan (subject to small changes, as always) sees us roll out this update on Wednesday, the 5th of July. You will only continue to be able to use the app if you update it, since there are some significant changes to the coding.

Speaking from experience, the Android-Update should be applied pretty fast, while Apple can take some time, sometimes days to actually apply the update. This is not in our control and we can only wait for the approval.

The Web-App (when you open g33kdating.com on your phone´s browser) will be available right away. So feel free to use the Web-App, including the app-design and all app-features from the comfort of your own browser right away!

You can even install the icon and have the web-app available on your home screen - just like an app from the app-store.

We look forward to your feedback and success stories. Have fun dating!
Your g33kdating team